Cheddon Fitzpaine Memorial Hall
To make a booking or enquire about hiring this venue please use the contact details below - Please mention Venues for Hire
New Film Season Starts 15th September 2023
FABELMANS (2022) 12A See events tab for details
Cheddon Fitzpaine Memorial Hall

description
Party Venue / Fitness and Dance Centre / Wedding Venues / Business Meeting Rooms / Community Hall / Funerals and Wakes
The hall lies in secluded woodland in the Rowford area of Cheddon Fitzpaine village just a few miles from Taunton town centre.
Venue suitability
This venue is suitable for the following uses:
Venue facilities
Yes - Full - Facilities to prepare meal
Explore the rooms this venue has for hire by expanding the sections below.
Large room with stage off to one end. External doors onto paved areas. Storeroom for tables and chairs. Serving hatches from kitchen and bar.
Meeting room with table and chairs
Upcoming events are shown below:
Macmillan Coffee Morning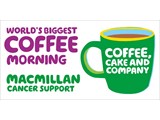 From 10:00am to 12:30pm
Come and join us for a nice Coffee and piece of cake
Quiz Night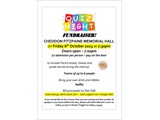 Come along and have some fun whilst supporting your local village hall.
Starts at 7:30pm Doors open – 7:00pm
£7 admission per person – pay on the door
to include French bread, cheese and pickle served during the interval.
Teams of up to 6 people
Bring your own drink and nibbles
Raffle
Film Club - The Unlikely Pilgrimage of Harold Fry (2023) 12A (DRAMA)
Adapted from her own novel by Rachel Joyce. Learning that his old friend and colleague Queenie has terminal cancer, Harold (Jim Broadbent) sets out to post her a letter of condolence, but impulsively decides to visit her in person instead, walking from his home in Devon to Berwick-upon-Tweed, and leaving his wife Maureen (Penelope Wilton) hurt and confused at home.
Refreshments: 6:30pm
Short film: 7pm
Feature: 7:20pm
Admission is £6 per person at the door. Card payment accepted.
Film Club - ALLELUJAH (2022) 12A (DRAMA)
Based on the play by Alan Bennett, Allelujah is a warm and deeply moving story about old age. When the geriatric ward in a small Yorkshire hospital is threatened with closure, the hospital decides to fight back by galvanizing the local community: they invite a news crew to film their preparations for a concert in honour of the hospital's most distinguished nurse. What could go wrong? Allelujah celebrates the spirit of the elderly patients whilst paying tribute to the deep humanity of the medical staff battling with limited resources and ever-growing demand.

Refreshments: 6:30pm
Short film: 7pm
Feature: 7:20pm
Admission is £6 per person at the door. Card payment accepted.
Film Club - OPPENHEIMER (2023) 15 (HISTORY/DRAMA)
Based on the 2005 biography American Prometheus Christopher Nolan's eagerly awaited feature is the story of J. Robert Oppenheimer, "the father of the atomic bomb", an enigmatic man who must risk destroying the world in order to save it.
Refreshments: 6:30pm
Short film: 7pm
Feature: 7:20pm
Admission is £6 per person at the door. Card payment accepted.
Latest news:
Inflatables, including Bouncy Castles
The use of these at the hall is not covered by the hall's insurance. Before you use any of these at the hall, we will need to ensure that the supplying company has the relevant Public Liability Insurance.
Regular users of this venue:
Sewing Alterations and Repairs
Pop up shop on Thursdays 2:00pm to 6:00pm in the Committee room.
Cheddon & West Monkton Film Club
Contact: Bill Rigby - Hall Manager
Films shown 7pm every 3rd Friday from September to May each year.
If you would like to be added to our email notifications, then please email Bill at cwmfilmclub@cfmh.co.uk
Cheddon Fitzpaine Parish Council
Contact: Sammie Millard-Jones (07465 405533)
Conscious Connections
Contact: Amelia Harding (07986 084176)
Little Seedlings Baby & Toddler Group
Mondays - Drop in anytime between 1.30pm to 3.15pm
Facebook: Facebook Page
Paws4teaching
Contact: Jo Williams (07919 157201)
Quantock Beaders
Contact: Pam Gilbert (01823 433838)
Meets monthly, normally the 2nd Thursday, 10:00am to 4:00pm.
New members welcome, contact Pam Gilbert. Our numbers have reduced over the years and following Covid so we could take more members.
Sewing Bee
Meets Mondays 1:45pm to 4:15pm in the Committee Room
South Somerset Astronomical Society
Meets monthly, every 2nd Tuesday, 7:30pm to 10:00pm in the Committee Room
The Arts Society Taunton
Contact: The Arts Society Taunton
Yoga and Fitness Training with Louise
Contact: Louise Thomas (0746 5665595)
Yoga - Friday 9:30am to 11:00am
Current vacancies:
Volunteers Needed
Closing date: 31 December 2023
The Memorial Hall is a registered charity, looked after by a group of volunteers who act as Trustees. The Trustees are responsible for the long term strategic direction of the hall, as well as its day-to-day running and maintenance – ensuring that it remains available for the local community to use and enjoy.
We would love to hear from anybody who might be able to volunteer their time to support us. There are lots of ways to help, without necessarily acting as a Trustee. For instance, you may have expertise in a certain area that might benefit the hall, from graphic design and web design skills to maintenance and building knowledge.
Please email the Secretary, Yvonne Rigby at Secretary@cfmh.co.uk if you like to help.
Document library:
CFMH Covid-19 Risk Assessment (Issue 6)
Updated Risk Assessment following Government changes of February 2022
View: covid-19-risk-assessment-issue-6.pdf (158,071 kB)
CFMH Covid-19 Special Hire Conditions (Issue 7)
Updated Special Hire Conditions following Government changes of February 2022
View: covid-19-special-conditions-issue-7.pdf (135,929 kB)
CFMH Data Protection Policy (Issue 1)
The Data Protection Act 2018 (The Act) governs the use of PD, which can be held on computers, laptops and mobile devices, or in a manual file, and includes email, minutes of meetings, and photographs. This document explains how CFMH complies with The Act in handling PD. (NB: The Information Commissioner's Office (ICO) is responsible for implementing and overseeing The Act. This Policy uses guidance published by the ICO on their website at www.ico.org.uk.)
View: cfmh-data-protection-policy-issue1-230206.pdf (278,759 kB)
CFMH Safeguarding Policy
Issue 1 of the hall's Safeguarding Policy approved at the Trustees meeting on 2nd August 2021
View: cfmh-safeguarding-policy-issue-1-210802.pdf (0 kB)
CFMH Standard Terms and Conditions
Issue 3 of the Standard Terms and Conditions.
Hirers, having returned their signed Hiring Agreement, are deemed to have entered into a contract and in so doing have agreed to abide by these Terms & Conditions.
View: cfmh-terms-and-conditions-issue-3-230206.pdf (0 kB)
The First Hall
Project was first discussed 1945 to build a Memorial Village Hall in memory of the seven villagers who had been lost in the war. Mr Hedley Musgrave was one of those prominent in the discussions as he had lost his son.
The first start up General Committee Meeting was held at Upper Cheddon Farm home of Mr H Musgrave on Tuesday October 30th 1945 he was voted in as Chairman, Treasurer Col C D G Lyon, Secretary Mr S E Sampson, with the aim of raising £1000,00. A bank account was to be opened at Somerset and Wilts Savings Bank. There were two sub committees Catering and Social.
The Hon Mrs Portman of Hestercombe House had given her permission for the Reading Room to be used for functions. An appeal to all parishioners to be asked towards funds. Fund raisers were to include Christmas Parties, children's concerts, whist drives, variety concerts, dances.
The first Flower show was held August Bank holiday 1946 was so successful became an annual event and is still going. 1948 saw the first gymkhana held in a field opposite the school by kind permission of Mr H Musgrave in conjunction with the Flower Show but was later split, the Flower show went to last Saturday in July the gymkhana in September. 1954 saw the Gymkhana Televised, the BBC donated two trophies for the gymkhana they are still used to this day for Flower Show trophies.
Raffles were held at all events prizes included a duck, chicken, basket of apples, books, eggs, tea, bottle port or wine, brace of rabbits, bottle of perfume.
A thermometer showing money raised was put up in the post office.
Meetings were held quarterly in various places Upper Cheddon Farm, The Rectory, Rowford School.
By 1950 just over £800 had been raised and when The Hon Mrs Portman passed away she bequeathed the Hestercombe Reading room to the village who sold it to the Crown Commissioners which doubled there savings to almost £2000.00.
The committee decided to approach the Crown Commissioners to find a suitable place to buy a plot of land to build the Hall, that place was Sandilands.
The first meeting to be held in the Hall was 25th July 1955 it was officially opened by the Bishop of Bath and Wells Dr H W Bradfield Saturday 8th October 1955.
November 1956 all Hall and Land payments were completed thus concluding the buisness of the start up committee.
At the next meeting December 7th 1956 Mr H Musgrave was elected as President.
Present Hall
The present hall was built at a cost of £300,000 in 2001.
Trustees
Chair: Malcolm Lown
Vice Chair: Robert Hughes
Secretary: Yvonne Rigby
Karen Curd
Kelly Western
Debbie Saunders
Pat Walker
Mike Batsch
Committee
Trustees plus:
Treasurer: Stuart Triggol
Manager: William (Bill) Rigby
Cleaner: Jade Frounks
Contact numbers are available upon reasonable request.
Keyholders are also available upon reasonable request.
We use HallMaster to manage our bookings. To view availability please see the calendar below.
Once you have identified a date and time you would like to book, or you would like to ask a question about anything to do with the hall, then please complete the contact form, send an email to manager@cfmh.co.uk, or send a message to 07586413290, and I will get back to you as soon as possible.
Bill Rigby
Manager
Guidelines for Hall Hire Rates
2023

Main Hall and Kitchen

£20

£17

Per Hour

(Residents of Cheddon Fitzpaine Parish)

Whole Hall

£24

£19

Per Hour

(Residents of Cheddon Fitzpaine Parish)

Committee Room

£9.50

£7.50

Per Hour

(Residents of Cheddon Fitzpaine Parish)

Children' Birthday Parties

(Main Hall and Kitchen)

£75

£63

For a four hour period

(Residents of Cheddon Fitzpaine Parish)

Wedding Receptions

(Weekends Only)

£740

£630

Plus £100 returnable deposit for a 48hr period

(Residents of Cheddon Fitzpaine Parish)
All party bookings costing over £100 per let are subject to a £100 returnable damage deposit.
We do not except bookings for teenage parties (13-18). Requests for 21st birthday parties will be vetted before being accepted.
There would be an additional charge of £10 if you wish to use the projector and screen installed in the main hall.
All party bookings costing over £100 per let are subject to an additional £100 returnable damage deposit.
Actual cost for a hiring will be agreed with the Trustees Representative and detailed on the Hiring Agreement, including when payments are due.
Minimum age of the hirer for us to accept a booking is 18 years of age.
Inflatables, including Bouncy Castles
The use of these at the hall is not covered by the hall's insurance. Before you use any of these at the hall, we will need to ensure that the supplying company has the relevant Public Liability Insurance.
Our local suppliers are shown below:
Allens Hire
Catering Equipment & Furniture Hire
South West Telephone No: 01225 812059
Can supply array of different products covering crockery, cutlery, glassware, furniture, linen and kitchen equipment. We offer everything from a basic white plate up to high end options such as Jars coloured crockery and Riedel glassware (we are the only approved supplier of Riedel glassware for hire in the UK)
Website https://www.allenshire.co.uk/
Fifth Element Disco and Karaoke
Ginclairs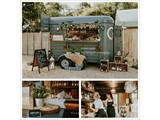 At Ginclairs we have created a stylish and elegant bar from a converted Sinclair Horse Trailer with a modern industrial theme, Ginclairs is an eye catching feature bar suitable suitable to hire for any event or memorable occasion.
We pride ourselves on supporting local and small businesses and source the finest small batch premium products, we stock a wide selection of local alcoholic and non alcoholic drinks, including over 30 hand picked and award winning drinks and accompaniments. We can tailor the bar to meet the requirements of your event.
Ginclairs is a fully stocked horsebox bar that can provide the wow factor for your guests at your event.
We stock over 30 varieties of local and small-batch gin, rum, vodka, and other spirits, and we serve them with the appropriate accompaniment. We also serve the finest local beers, ciders and soft drinks, alongside cocktails and all the favourites you would expect to see behind the bar.
We provide professional bar staff that are always on hand to provide a good quality experience with a smile!
Contact: Claire
Email: enquiries@ginclairs.co.uk
Facebook: Facebook
Instagram: Instagram
Mobile: 07838 314735
Website www.ginclairs.co.uk
Harlequin Carnival Club Bar & Event Services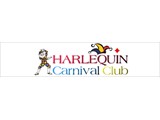 Harlequin Bar and Event Services offer a free fully staffed and serviced licensed bar.
The Bar and Event Services are staffed by volunteers who are members of Harlequin Carnival Club based in Ilminster and in this way they raise funds to build our carnival entry each year.
Our email address: barservices@harlequin-carnivalclub.co.uk
The Bar Bookings Telephone Number: 07508 115870
Website www.harlequin-carnivalclub.co.uk
Mid Somerset Catering and Leisure Hire
Somerset's Catering Equipment And Leisure Hire Specialists
Mid Somerset Catering Hire is the largest independent supplier of catering equipment in Somerset and the surrounding area including Taunton, Yeovil and Exeter.
The Gin & Sin Co - Somerset's Premium Mobile Gin, Fizz & drinks bar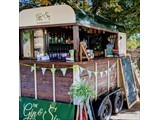 Our Mobile bar 'Huckleberry' provides a unique, bespoke addition to any special event or celebration. We specialise in serving a wide range of quality artisan Gins, tonics, Fizz cocktails, Rum and in addition, offer a full bar service with bespoke, individualised drinks menus. Established in 2017 we are experienced in providing a quality, professional service and take pride in delivering a prime drinks menu to serve all manner of events, tastes and clientele.
Contact: Claire Sowerby
Phone: 07969 363884
Email: theginandsinco@outlook.com
Facebook: The Gin & Sin Co | Taunton | Facebook
Website www.theginandsinco.com
Tipsy Moo Bar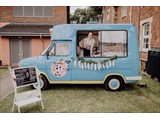 A unique mobile bar experience! Our vintage ice cream van has been transformed into a charming mobile bar. We can of course also offer delicious local icecream, alongside our wonderful drinks selection, or simply on its own. From weddings to parties, our van adds a touch of vintage flair to any event. Make your occasion unforgettable with our one-of-a-kind van! Perfect for parties, weddings, summer events and more.
Tel: 07926523635
Email: tipsymoobar@gmail.com
Facebook: https://m.facebook.com/profile.php?id=100084513640182
Instagram: https://www.instagram.com/tipsy.moo.bar