Ashton Keynes Village Hall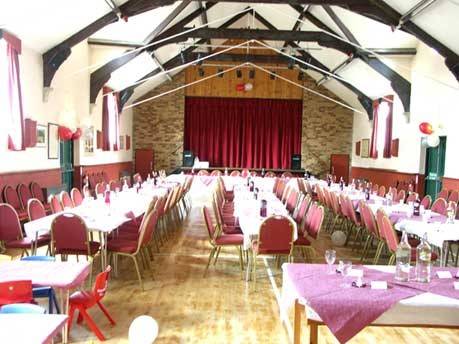 Ashton Keynes Village Hall - Ashton Keynes Village Hall
To make a booking or enquire about hiring this venue please use the contact details below - Please mention Venues for Hire
Ashton Keynes Village Hall

description
Village Hall / Business Meeting Rooms / Hotel/Conference Centre / Party Venue
Ashton Keynes Village Hall, which dates back to the early 90's, lies in the centre of the Village with good Car Parking and internal facilities. The Village of Ashton Keynes (the first Village on the River Thames) is 12 miles North West of Swindon and 5 Miles South of Cirencester, situated within the South Western corner of the Cotswold Water Park. The Hall consists of two main rooms (one of which can be partitioned into 2 smaller rooms) and a kitchen, all of these are detailed below. The Hall complex also includes the local GP Surgery and has an annexe at the High Road end which current houses the Village Shop (owned by the community). The Hall has disabled access, disabled parking and separate disabled toilet. There is a portable Bar that has shelfs, an area to fit pumps and a large area for Barrels or Kegs. The Hall has a full alcohol licence. In May 2008 the Village Hall was awarded Hallmark 1 and Hallmark 2 quality standards.
Room 1 Main Hall. This room is 14m long (excluding the Stage) and 8.5m wide. The ceiling is high and beamed (as can be seen on the Photos). The main entrance is at the opposite end to the Stage. There is a Serving Hatch to the Kitchen. The Stage is 5m deep and 7.4m wide. It has a roped curtain and there is a full lighting box with front, above and rear lighting. Heating is provided down the sides by 4 convector heaters situated on the side walls, just above floor level. A Piano is available. An induction loop is available for use and the Hall has amplified sound though 4 speakers. Hand held, static and radio microphones are available for use with this equipment. This room is also used for the Rural Cinema and can be set up with a full Dolby 7.1 surround system.
Capacity 120 seated or 200 standing
Room 2 Ashton Keynes Room. This room at full size is 10m x 5m. The room can be partitioned to make 2 x 5m x 5m rooms, but as the dividing partition is not very sound-proof, the room is only let as a single unit. It can be useful to divide when being used as a Bar or Food area for 'Whole Hall' functions. At one end there is a serving hatch to the Kitchen, at the other is a door to an outer patio area. There are entrance doors to both areas should you wish to partition the room.
Capacity 25 seated or 40 standing
Kitchen Facilities The Kitchen has two sinks (both with Hot and Cold water), a fridge, cooker and microwave. There is a reasonable amount of Hall crockery, but for large functions we recommend hiring crockery and cutlery. The Kitchen has serving hatches to the Main Hall and to the Ashton Keynes Room. There are plenty of work surfaces and two large kettles.
Fixtures and Fittings 130 upholstered banquet chairs. 9 upholstered arm chairs. 12 of 6' x 2'6"; 5 of 6' x 2'; 4 of 3' x 2'6"; 4 of 3' x 2' rectangle tables. 12 of 5' round tables. 10 of low height coloured rectangle tables for children. Lots of plastic children and toddler chairs. 3m x 4m Screen with Digital Cinema Equipment that can show 'free to air' TV.
Venue suitability
This venue is suitable for the following uses:
Venue facilities
Yes - Medium - basic food preparation
12 round tables, 14 rectangle tables
Explore the rooms this venue has for hire by expanding the sections below.
Room 1 Main Hall. This room is 14m long (excluding the Stage) and 8.5m wide. The ceiling is high and beamed (as can be seen on the Photos). The main entrance is at the opposite end to the Stage. There is a Serving Hatch to the Kitchen. The Stage is 5m deep and 7.4m wide. It has a roped curtain and there is a full lighting box with front, above and rear lighting. Heating is provided down the sides by 4 convector heaters situated on the side walls, just above floor level. A Piano is available. An induction loop is available for use and the Hall has amplified sound though 4 speakers. Hand held, static and radio microphones are available for use with this equipment. This room is also used for the Rural Cinema and can be set up with a full Dolby 7.1 surround system.
Capacity 120 seated or 200 standing
Room 2 Ashton Keynes Room. This room at full size is 10m x 5m. The room can be partitioned to make 2 x 5m x 5m rooms, but as the dividing partition is not very sound-proof, the room is only let as a single unit. It can be useful to divide when being used as a Bar or Food area for 'Whole Hall' functions. At one end there is a serving hatch to the Kitchen, at the other is a door to an outer patio area. There are entrance doors to both areas should you wish to partition the room.
Capacity 25 seated or 40 standing