Greek Band Orpheus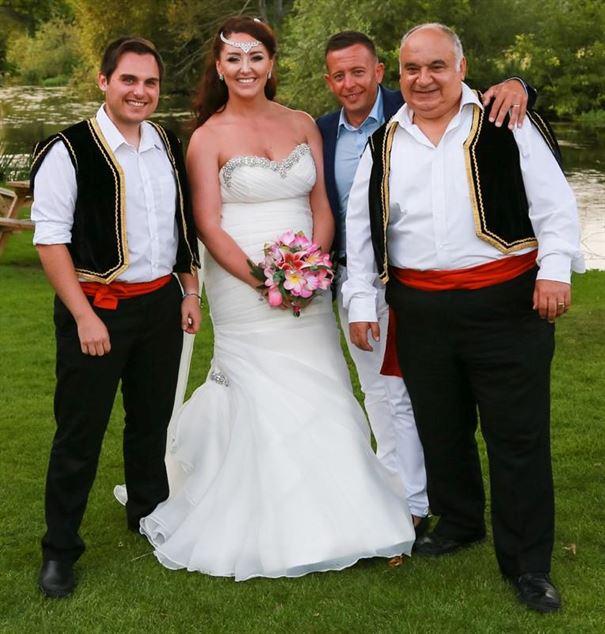 Musicians/Bands / Wedding Supplier - Music / Entertainer
Greek band for hire, with location close to London, Enquire NOW to reserve your date for performance throughout the UK.
Long established and experienced professional Greek and International band based in South East of England, but prepared to travel wherever necessary.
(Featured on TV "Come Dine With Me").

Specialities:

- Corporate Events
- Greek Weddings
- Birthdays and Private Parties
- Baptisms
- Greek Themed Events
- Festivals
- Theatres
- TV appearances
- and More

"Their music and entertainment will take you back to Greece with the amazing sounds of the bouzouki and Yorgos's singing voice with it's smooth velvety tone".
Your Event is a special day, so Orpheus can provide that unique sound that will make it fun and memorable experience for you, as a client, and your guests.
"We really enjoyed their music and they know how to 'read' a crowd in terms of what tempo and type of music to play."

Orpheus is one of the very few Greek Bands that have a young Greek dancer as part of the band.
The dancer is there not only to demonstrate some Greek dances, but also, most importantly, to allow audience participation where necessary and make sure the night is very fun and entertaining one - You will learn how to dance Zorba the Greek "OPA"!
"Catered to all tastes and ages and helped our party go with OPAH!"

Orpheus have shared stage in several exclusive events with famous entertainers such as:

Stavros Flatley.
Michael McIntyre.
Leona Lewis.
David Penn.
Ricky K.

Their goal is to provide the client with Greek and international entertainment to suit their occasion.

The Greek band will provide a background music while you enjoy your dinner or/and create a true Greek singing and dancing atmosphere and make your event one to remember.

They can tailor the program and size of the band to the customer requirements.

The entertainment choice for your event could start from only a solo performer and could include Greek dancing, belly dancing and DJ Service for the intervals and/or the end.

SOLO Performer (Keyboard/Vocals) - good for limited budgets.
DUO (Keyboard/Vocals, Bouzouki/Guitar/Greek Dancer) - most booked option for any event.
TRIO (Bouzouki, Keyboard/Vocals, Guitar, Greek Dancer) - good for medium events and weddings.
QUARTET (2 X Bouzouki, Keyboard/Vocals, Guitar/Greek Dancer) - extra oomph for your party.
FIVE PIECE BAND(2 x Bouzouki, Keyboard/Vocals, Guitar/Greek Dancer, Violin) - for larger events.
YOU CAN ADD DISCO TO ANY OF ABOVE for extra fee (Very Popular).

Orpheus is self-contained, with their own First Class PA System, suitable for most events.
"Musical Talent and ability to entertain young and old alike." The Greek Band has performed in the most desired places (even Britain Got Talent) and has all the necessary insurance and paperwork.

(Public Liability Insurance - 2 Million, PAT Certificate, PAT Policy, Risk Assessment).
"You set the party alight."

Programme Examples for Greek Themed Night and Wedding are as follows: -

Greek Night and Corporate Events:
- The show starts with the band playing background music during dinner.
- After the meal, the belly dancer will perform with audience participation (optional).
- Greek Dancing and audience participation... Get ready for ZORBA the Greek - "OPA"! (optional).
- Plate smashing is an additional option if requested. (subject to availability and venue permission).
- The night could be brought to an end with DJ Music for a small supplementary fee (optional but very popular).

Greek Wedding:
- The show starts with the band playing background music whilst dinner is being served.
- Speeches.
- Cutting of the Cake.
- First Dance.
- Money Dance.
- Kalamatiano for the bride and Kumbares.
- Sousta for Groom and Kumbaros (When kumbaros are dancing separately with the groom, it will be Sirto).
- Nisiotika for the parents.
- Zembekiko etc.
- The night could be brought to an end with DJ Music for a supplementary small fee (optional but very popular).
"It was great to finish the evening with well known English Dance Songs."

The Greek entertainment band has received ample positive reviews from many satisfied clients so it is one of the most RECOMMENDED BANDS from this directory.

Check their Outstanding Customer Feedback and BOOK with confidence.
"Appreciated not only by Greek Family but also friends from all parts of the world."
"Words can'd describe your performance during our one life event - wedding."
"Orpheus helped to make our evening complete."

The Greek band Orpheus is looking forward to providing great entertainment for your event.
Contact details
Shoppenhangers Road
Maidenhead
Berkshire
SL6 2PZ